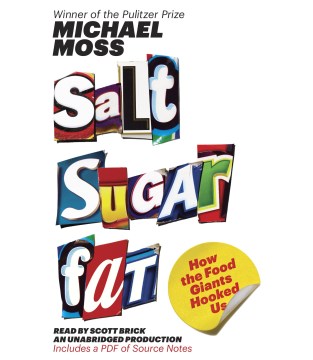 Salt Sugar Fat
How the Food Giants Hooked Us
Downloadable Audiobook - 2013

From a Pulitzer Prize--winning investigative reporter at The New York Times comes the explosive story of the rise of the processed food industry and its link to the emerging obesity epidemic. Michael Moss reveals how companies use salt, sugar, and fat to addict us and, more important, how we can fight back. Every year, the average American eats thirty-three pounds of cheese (triple what we ate in 1970) and seventy pounds of sugar (about twenty-two teaspoons a day). We ingest 8,500 milligrams of salt a day, double the recommended amount, and almost none of that comes from the shakers on our table. It comes from processed food. It's no wonder, then, that one in three adults, and one in five kids, is clinically obese. It's no wonder that twenty-six million Americans have diabetes, the processed food industry in the U.S. accounts for $1 trillion a year in sales, and the total economic cost of this health crisis is approaching $300 billion a year. In...
Searching for more content…
Publisher:
New York : Books on Tape, 2013
---
Opinion
From the critics
---
Community Activity
Summary
Add a Summary
---
AnneDromeda
Apr 28, 2013
Michael Moss' *Salt Sugar Fat* is a complex, impressive exposé of the ways the processed food industry manipulates the public and government. It is sharp, comprehensive, entertaining, and incredibly thorough.
To make his case about the bewitching power of processed food, Moss breaks the book down into the three titular categories. Each of the three sections contains some shocking new information about the ingredient in question, how we experience it, and how it is used in processed food to produce the coveted "mouthfeel" (industry term) and flavour that will keep "heavy users" (industry term) coming back for more.
Moss is meticulous in backing up his claims with studies and knowledgeable named sources. It's surprising how many of the industry insiders are willing to be named, and express reservations on the record about their participation in a system that's led to poor public health and an obesity epidemic.
What makes this book truly remarkable is that Moss has no special bone to pick with processed food, in and of itself. He makes it plain on several occasions that he loves many of the convenient food options on offer, and he sympathises with food industry scientists when they mourn the metallic, chemical taste of their salt-reduced food offerings. Moss's goal isn't to take down the industry or ban all these items.
Rather, this book issues a plea for processed food giants to be more transparent about what their foods actually contain and don't contain. No more inflated health claims for cereals fortified with more sugar than vitamins. No more bullying the USDA into changing their food guides. No more exploiting the addictive properties of their products without regard for the health of their heavy users. *Salt Sugar Fat* is a call to attention for all foodies, and essential reading for fans of Michael Pollan and Marion Nestle.
Notices
Add Notices
There are no notices for this title yet.
Quotes
Add a Quote
There are no quotes for this title yet.