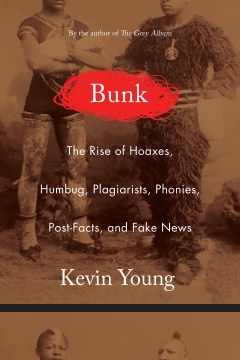 Bunk
The Rise of Hoaxes, Humbug, Plagiarists, Phonies, Post-facts, and Fake News
Book - 2017
Only posted from more recently reported tall tales or worse (AND PLEASE DON'T READ THE QUOTES IF YOU FEAR SPOILERS:)
You could say that 2016 gave us an election without a winner (or a popular winner didn't win).
===
With the hoax more broadly, this is all the more troubling because what the hoax says about us isn't true – just as what plagiarism says about itself is untrue – or rather, is only true of out gullibility and misplaced trust.
===
Trump at his rallies issued decided falsehoods, then used the words "believe me" or "unbelievable" as if that made what he said true; the fact that he could say either "bigly" or "big league" in ways we could argue over means that, as he said in a debate of his opponent, These are just words. This is the utter underlying—and lying—statement of our Age of Euphemism.
===
Redlining, gerrymander, urban, inner city. Members only.
===
Alt-right. Alternative facts. White lies.
===
Funk, hokum, blue devils, the trap, the blues.